Justin Vernon, known to many as Bon Iver, has a voice that is like an icy breeze against your warm skin, which I suppose is appropriate considering that his name translates as "good winter." His new album, For Emma, Forever Ago, which is being rereleased tomorrow on Jagjaguwar (he had previously self released it), is a stunning debut.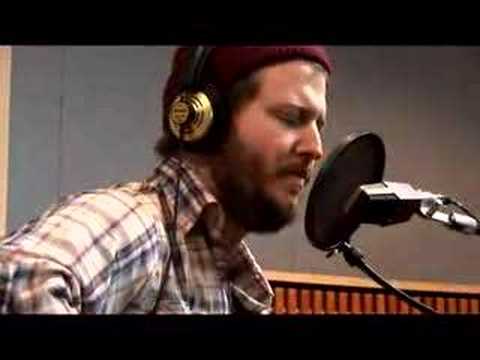 Bon Iver- Flume
From the beginning of "Flume" to the end of the 9-song album he carries a powerful falsetto that is instantly compelling. Even if I couldn't quite make out all the lyrics, Vernon's simple acoustic and haunting vocals alone depict both a serene and lethargic man drifting off in his thoughts, while drowning out the noise from the world around him, which is quite appropriate considering that most of the album was recorded in a remote cabin in Northernwestern Wisconsin, where he lived alone for three months. Horns and additional instruments eventually come into the mix for songs such as "For Emma", but they keep within the mood and structure of the album. In fact, the instrumentation strengthens the sense of solitude and enhances the feelings Vernon professes.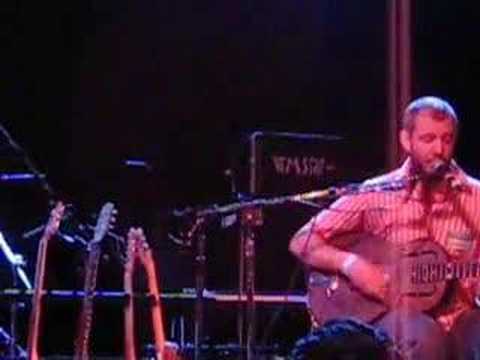 Bon Iver- Skinny Love
The stand out track on the record is the song Skinny Love, which was immediately placed into heavy rotation on my itunes playlist when I first heard it a couple of months back. The unhinged double tracked vocals paired with an Iron and Wine-esque guitar based accompaniment is the perfect off kilter mix for a song that pleads "Who will love you? Who will fight? Who will fall far behind?" Well, we definitely won't fall far behind and neither should you. Go out and get this brilliant record tomorrow, find some place where you can lay down your head and then prepare to lose yourself in thought. Then go see him live as his North American tour begins today and takes him across the US and Canada with the likes of Black Mountain and Phosphorescent.
02/18/08 Chapel Hill, NC – Local 506 w/ Megafaun
02/19/08 Washington, DC – The Rock and Roll Hotel w/ Black Mountain
02/20/08 Philadelphia, PA – Johnny Brenda's w/ Black Mountain
02/22/08 New York, NY – Bowery Ballroom w/ Black Mountain
02/23/08 Brooklyn, NY – Glasslands w/ Black Mountain
02/24/08 Boston, MA – Middle East Upstairs w/ Black Mountain
02/25/08 Portland, ME – The Space Gallery w/ Black Mountain
02/26/08 Muncton, NB – The Manhattan w/ Black Mountain + Nordic Nomadic
02/27/08 Halifax, NS – The Marquee Club w/ Black Mountain + Nordic Nomadic
02/29/08 Montreal, QC – La Sala Rosa w/ Black Mountain + Quest for Fire
03/05/08 Toronto, ON – Lee's Palace w/ Black Mountain + Quest for Fire
03/06/08 Cleveland, OH – The Grog Shop w/ Black Mountain + Nordic Nomadic
03/07/08 Louisville, KY – Headliners w/ Black Mountain
03/08/08 Newport, KY – Southgate House w/ Black Mountain + Nordic Nomadic
03/09/08 Knoxville, TN – The Pilot Light w/ Black Mountain + Nordic Nomadic
03/10/08 Nashville, TN – Exit/In w/ Black Mountain + Nordic Nomadic
03/11/08 Little Rock, AR – Sticky Fingerz Chicken Shack w/ Black Mountain + Nordic Nomadic
03/18/08 Tucson, AZ – Plush w/ Phosphorescent + N. Lannon
03/19/08 San Diego, CA – Che Cafe w/ Phosphorescent
03/20/08 Los Angeles, CA – The Echo w/ Phosphorescent
03/21/08 Santa Barbara, CA – Muddy Waters w/ Phosphorescent
03/22/08 Visalia, CA – Cellar Door w/ Phosphorescent
03/23/08 San Francisco, CA – The Independent w/ Phosphorescent
03/24/08 Portland, OR – Holocene w/ Phosphorescent
03/25/08 Vancouver, BC – Media Club
03/26/08 Seattle, WA – Nectar w/ Phosphorescent
04/04/08 Indianapolis, IN – The Vogue w/ Margot & The Nuclear So & So's
04/07/08 Columbia, MO – Mojo's
04/09/08 Urbana, IL – Canopy Club
04/10/08 Chicago, IL – Lakeshore Theater
04/11/08 Madison, WI – Orpheum Theatre – Stage Door
04/12/08 St. Paul, MN – Turf Club
04/14/08 Fargo, ND – Aquarium
04/15/08 Duluth, MN – Kirby Rafters
---
No Comments so far
Leave a comment
Leave a comment