Larkin Grimm has given us her "Songs For Becoming the Child's Eye at the Center of the Storm." The mixtape features tunes by Dolly Parton, The Byrds, Gene Clark, Woody Guthrie and more. Grimm, who spent time honing her musical skills while on various spiritually- guided journeys throughout Thailand, Guatemala and Alaska and then later in the Brooklyn- based (via Yale University) band Dirty Projectors, recently released her Young God records debut, Parplar. Check out the mixtape and a video of Grimm performing her song "The Last Tree" after the jump.


Songs For Becoming the Child's Eye at the Center of the Storm

1.Dolly Parton – Early Morning Breeze
Dolly was the original expert on the subject of butterflies,
rainbow-colored flowers, and lying around in dewy meadows in order to
cure what ails you.
2.The Byrds – Chestnut Mare
"Always alone, never with a herd, the prettiest mare I've ever seen,
you have to take my word… I'm going to catch that horse if I can.
And when I do I'll give her my brand.  And we'll be friends for life,
she'll be just like a wife."  Ha ha!  The best song ever written about
childlike misogyny and innocent bestiality combined in the prettiest
package of easy listening.
3 .Willie Nelson – Can I Sleep in Your Arms
This song is from his concept album, redheaded stranger.  It's from
the part where the jealous preacher who murdered his wife finally
convinces another woman to take him in.  The last words are, "Can I
sleep in your arms tonight, Lady?  It's so cold lyin' here all alone.
And I have no hold to hold on you.  An', I assure you, I'll do you no
wrong."
4. Yoko Ono – Death of Samantha
She says, "Every day I thank god I'm such a cool chick, baby," while
hiding her tears behind sunglasses.  One of my favorite songs about
the hardships of being a total badass.
5. Neil Young – Roll Another Number (For the Road)
This is a great song about driving home drunk. "Lookout mama, cuz I'm
coming home again."
6. The Skillet Lickers – Run Nigger Run
When I was at Yale, a very P.C. "White Music" professor slipped me
this Skillet Lickers record and whispered, "Don't tell anyone you got
it from me."  Being a true Georgia Country Girl, I know that most of
these old time songs were taught to the white folks by the black folks
in the first place.  It's a great fiddle tune, with a happy vibe.  And
the moral is, Run Nigger Run!  You better get away!  Damn right.
Don't forget your history, folks!
7. Joan Baez – Silver Dagger
This man-hating song just feels too good.  Boys, beware if your
girlfriends listen to this one on repeat.
8. Woodie Guthrie – Going Down That Road Feeling Bad
Another great and hopeless protest song.  I sang this one a lot while
I was on my most recent endless tour.  Makes you laugh at yourself and
realize that life is good, even when folks treat you like dookie.
Puts things into perspective.
"I'm going where the water tastes like wine, whine, whine!  I ain't
going to be treated this-a-way!"
9. The Velvet Underground- Pale Blue Eyes
"I thought of you as my mountaintop, I thought of you as my peak, I
thought of you as everything I've had but couldn't keep."
10. Gene Clark – Some Misunderstanding
"We all need a fix
At a time like this
But doesn't it it feel good to stay alive."
11. Nina Simone – Beautiful Land
Nina becomes a child when she sings this song.  It's not what you expect.
"Red is the color of a lot of lollipops,
Orange is any orange on a tree.
Yellow's the color of a bag of lemon drops,
Green is a piece of seaweed in the sea.
Blue is the color of the sky in summertime
Indigo is a Siamese cat's eyes.
Violet's the color of a flow'r in wintertime.
These are the colors of the rainbow skies."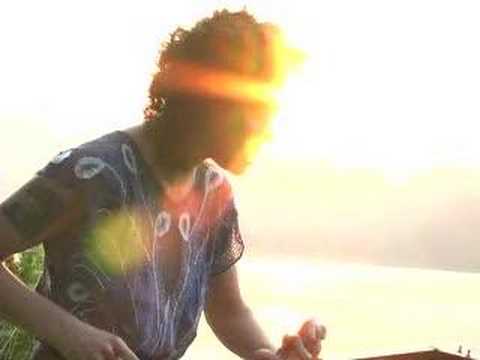 Larkin Grimm- The Last Tree
---
1 Comment so far
Leave a comment
Leave a comment