The recent publication of John Einarson's Forever Changes: Arthur Lee and the Book of Love (Jawbone Press, 2010), is certainly cause for celebration, particularly if you happen to be a fan of the band's Elektra-era recordings from the mid-sixties (unfortunately, there's not much in Einarson's book about Arthur's post-Elektra discography, which spanned nearly four decades and included many excellent solo efforts released under his own name). Even though he didn't live long enough to see the book's publication — he passed away in August 2006, after losing a battle to acute lymphoblastic leukemia — I'm sure Arthur would be happy to know that Forever Changes also features passages from his own autobiography, which he began writing when he was still incarcerated at Pleasant Valley State Prison in Coalinga, California.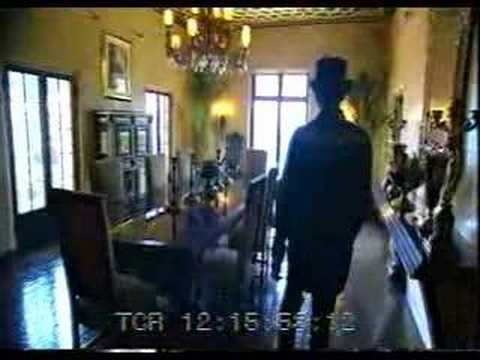 Arthur Lee visiting his old haunt, "The Castle"
I worked with Arthur briefly on these very same autobiographical ramblings, shortly after his release from prison in late 2001, and as a special treat for the readers of When You Awake, Arthur Lee's widow, Diane Lee, has given us permission to include a sample of Arthur's autobiography for your reading pleasure. The sample we're including has been edited from the original text, but it captures the spirit and intention of what Arthur Lee wrote down. At some point in the future, Diane will publish portions of the manuscript that were not used in John Einarson's Forever Changes. There's more after the jump.


I met Arthur Lee at a small birthday party get-together at Baby Lemonade drummer David "Daddy O" Green's hilltop home, back in January 2002.
This was shortly after Arthur had been released from Pleasant Valley State Prison in Coalinga, California, where he'd been serving time for "negligent discharge of a firearm." Due to the unfortunate severity of California's "three strikes rule" and a few prior felony convictions, the judge had given Arthur a hefty prison sentence of twelve-years — I believe this would amount to a little over nine years with credit for 85 percent of time served — but Arthur was thankfully released after serving five and a half years when a federal appeals court found that the prosecutor at his trial had been guilty of misconduct.
We had quite an interesting conversation that night. I remember one of the first things Arthur did was make a wisecrack about my name being Bryan, saying he'd had problems with other "Bryan's" in the past, clearly a reference to former bandmate Bryan MacLean, but he was joking, really.
At some point Arthur and I ended up on the topic of Del-Fi Records owner and head honcho, Bob Keane. I had mentioned that I used to work at Del-Fi Records, and Arthur had known him too: back in 1964, Keane had released a single, called "Luci Baines," by Arthur's pre-Love band, the American 4, on one of Del-Fi's short-lived sixties imprints, Selma Records.
I also happened to mention that I'd gotten to know Bob Keane — who was then 80 years old — pretty well, and I'd just spent the last couple of years co-writing his autobiography, The Oracle Of Del-Fi. That's when Arthur's eyes lit up. He told me he'd also just written his autobiography, when he was in prison in central California, and then he asked me if I'd agree to meet with him again to discuss helping him type it up and also having me do some "light editing" in order to get the manuscript into shape for a publisher to consider.
A few days later Arthur and I met at one of his favorite restaurants, Ernie's, a Mexican restaurant in North Hollywood, and we talked about his book project while munching on tacos and chips and drinking beers. I believe Arthur and I both had a shot of tequila too. It was a great conversation, and it was at Ernie's that he told me all about some of his experiences in prison, where he said he mainly listened to classical music to pass the time.
After Arthur decided he could trust me, he handed me a stack of ten yellow notepads, those long "legal" pads, which were completely filled with his long-hand cursive handwriting. I was sort of astonished when I looked closer at the pages and realized that Arthur hadn't used any punctuation, and he'd also written completely in lowercase, and so it was essentially freehand rambling prose with no capitalized words to help clue me in as to when one sentence started and when a new sentence began, since there were no periods (or commas).
It was going to be quite an arduous task, but I was up for the challenge, and so Arthur entrusted me with these hand-written legal pads, which I then took home and immediately began reading. In fact, I read the entirety of his autobiography that first night.
At some point I started calling it his "The Book Of Love" although I believe Arthur hadn't given it a title. After just a few days, I got as far as typing up what essentially formed the first chapter, so to speak, of "The Book Of Love," before Arthur called and asked how it was coming along. I described some of the difficulties I was having with the rambling, often incoherent text, and figured it might take as much as a month for me to finish the project, and that's when he said he wanted to meet again, this time in my Miracle Mile apartment. He wanted to discuss my progress, and figure out our terms: how much he was going to pay me to help him, how long it was going to take me to type it, etc.
I can still clearly remember seeing him pulling up in his Lincoln Towncar on my street outside, his head wrapped up in a bandana, sporting dark sunglasses and wearing a black leather jacket even though it was a sunny and relatively warm winter's day. We sat in my living room and talked for awhile, but, unfortunately, Arthur and I couldn't quite come to any agreement and so he ended up taking back his book that day, telling me that he'd rather just have "one of his girls" type it up for him instead. And so, our mutual partnership came to an end.
Arthur Lee in Love Story, produced and directed by first-time film makers Chris Hall & Mike Kerry
I ended up seeing Arthur again, at several Arthur Lee and Love shows, and he was always backed up by his band, Baby Lemonade — Mike Randle, Rusty Squeezebox, Dave Chapple and Daddy O — and they were always pretty damn good if not absolutely great. The first time I saw them perform was at a "semi-secret" show at Spaceland in Silverlake, when they were billed as "The Andmoreagains," but absolutely no one was fooled by the name on the marquee: when I arrived at the show there was line of people down the block, waiting to get in.
I saw him a few more times, including a memorable show at the Knitting Factory that was just about one of the best live shows I've ever seen, at Royce Hall (with the Stockholm Strings) where he performed Love's wonderful Forever Changes album in its entirety, and at a show with the Zombies (featuring Colin Blunstone and Rod Argent) at the Ebell Theater in the Hancock Park area, among others. I still remember seeing a handful of girls crying with happy tears at the Knitting Factory show, and everyone singing the words to Arthur's Elektra-era Love songs.
I never really got to hang out with Arthur one-on-one again, however, but I kept in touch with the guys in Baby Lemonade and like many of his fans, I was very saddened by the news that Arthur was later diagnosed with acute lymphoblastic leukemia.  He passed away four years ago, on August 3, 2006, after a lengthy hospital stay.
At some point, I started corresponding with Arthur's widow,  Diane Lee, who was now in charge of his estate, and also with his one-time personal manager Mark Linn, and they had both expressed how they were working to get Arthur's autobiography published, and for a time they both wanted me to be involved on the project again, but for one reason or another, it didn't happen.  Around the same time, there was also a lot of ongoing interest in a couple of different Love projects, some of them involving Rhino, the record label where I worked at the time, including discussions about including the autobiography with a DVD release of a Love documentary film, Love Story, which later had its theatrical premiere in Westwood. But for quite a few years, there wasn't any news of the autobiography and I didn't know what was happening with it.
At some point I learned that at least some of Arthur's autobiography was going to be excerpted in a new book called Forever Changes: Arthur Lee and the Book of Love (Jawbone Press, 2010). The book was being written by John Einarson, who has previously authored books on a lot of my favorite bands and musicians, including The Flying Burrito Brothers, The Byrds' Gene Clark, Buffalo Springfield and many, many more, so I was quite pleased that Diane and Mark had given Einarson access to Arthur's unpublished writings.
Forever Changes is available in stores now.
---
ARTHUR LEE – THE BOOK OF LOVE
Excerpt: 
Ah, the Castle. What a trip. I'd never seen a house that big. It was the spookiest place I have ever lived in. It was so big that when I would wake up in the middle of the night, I would meet two or three people I didn't even know on the way to the kitchen and back. The property covered a whole block that went around in a circle. What went on their was more than an experience. I sometimes would go to bed with one girl and maybe wake up with another. It's a funny thing. I don't even remember playing with the whole band together there, but I do remember what went on, although the people that came by were too many to remember every one. Night after night, day after day, it was just one big party, with no maid. That big kitchen was where the trash was dumped and it smelled like every filthy thing you could think of. The plumbing wasn't the best either. The place was old, and how was I to know that the toilets were stopped up. Once, I flushed the toilet and the water, whic had been standing in there for years, shot right up between my legs, right up to the ceiling.
The place reminded me of the house in the television show The Munsters. when we first moved in there, a friend of mine named David Bialle came over — on acid — to feel the vibes in the place: if they were good or bad. He and his girlfriend, Carol Green, came by and David went to search things out. There was a place upstairs we called the Porthole Room, and David headed that way. Carol and some others were walking around, tripping on how big the place was, and after about 20 minutes she asked, "Where's David?" I said I didn't know, so she went looking for him. She found him in the Porthole Room. When she came back downstairs, she had him by the hand. He was as white as a sheet, and asked him how were the vibes and he gave me a look that I can't explain. His mouth moved but he didn't say anything. He just shook his head as if to say "No good." Talk about a haunted house!
Another view of The Castle, also known as the Talmadge House, after silent movie star Norma Talmadge. It was also known as "The Cedars" in the sixtie.
---
8 Comments so far
Leave a comment
Leave a comment