On Friday, we had the chance to speak with Ronee Blakley at her birthday party, which included a screening of Robert Altman's 1975 film Nashville. Ronee might still be best known for her Oscar-nominated performance as country superstar Barbara Jean in Nashville, but that's just one of the many highlights in her storied career. She released two albums in the 70s: her first was the folk-rock album Ronee Blakley, which debuted on Elektra Records in 1972, and her second, Welcome, was released on Warner Bros. in 1975.
During that same decade, she performed with artists such as Bob Dylan  (see photo above of Dylan and Blakley backstage at The Roxy in 1976) and Hoyt Axton, among others, and dueted with Dylan on his epic "Hurricane" from the Desire album. She also toured with Dylan and other performers on the Rolling Thunder Revue, and appeared as "Mrs. Bob Dylan" in Dylan's 1977 film Renaldo and Clara, performing her song "Need A New Sun Rising."
During the 1976 presidential campaign, she performed at rallies and speeches by Jerry Brown and in 1984 she performed, with Kris Kristofferson, at the final Los Angeles rally of presidential candidate Walter Mondale. She's also starred in several movies, made guest appearances on popular TV shows and produced, wrote, starred in, and directed her own feature music docudrama, I Played It For You which debuted at the Venice Film Festival in 1985. She continues to record new material and release new albums to this day. Check out our interview with her after the jump.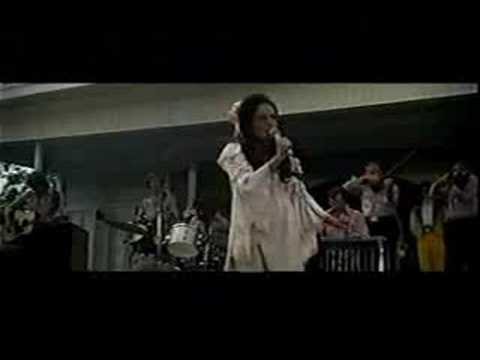 WYA: You were nominated for a Best Supporting Actress Oscar for your performance as Barbara Jean in director Robert Altman's Nashville. You performed your own songs in character, and I understand she was based a little bit on legendary country singer Loretta Lynn, is that right?
Ronee Blakley: My character as written was more "like" Lynn Anderson and originally she was to be played by vanilla blonde Susan Anspach. The Loretta Lynn tag occurred when I took over the role as a brunette. I studied Dolly Parton, Tammy Wynette and Loretta Lynn. I saw both Loretta and Dolly perform, and hung out with Loretta, who was, and is, an inspiration to me.
WYA: Nashville was just one of the many great movies directed during the seventies by Robert Altman, who also directed McCabe and Mrs. Miller, Thieves Like Us and a personal favorite of mine, The Long Goodbye, among many others. Do you have any specific memories of what it was like working with Altman?
Ronee Blakley: Altman had two rules: don't contradict me on the set because time is money and don't show up drunk for work. Those were the instructions he gave everyone, because he was open to ideas and received them gladly, but if he said "no" he was not to be argued with. Those are good rules for every set. Of course most directors don't instruct their employees not to show up drunk, but that was because he liked to go out with some of us, every night after dailies, for dinner and drinks.
WYA: What was it like recording your first album, Ronee Blakley in 1972. I love your duet with Linda Ronstadt on "Bluebird."
Ronee Blakley: It was exciting and fun and challenging. I remember driving to Linda's on Beachwood Canyon, where she lived with JD Souther, to pick her up for the session. She drank alot of carrot juice in those days and sometimes she was a tad orange. The musicians were the best, and when I listen to the album I remember them gratefully for their talent, generosity, and the thrill of working alongside them to bring my songs to life.
WYA: Your second album, Welcome was released on Warner Bros. in 1975. It was recorded at the legendary Muscle Shoals Sound Studio in Alabama. Can you tell us something about the recording sessions and what it was like to work with a music business giant like Jerry Wexler, who produced the album?
Ronee Blakley: Jerry Wexler was a force, someone whose intellect, energy, vocabulary, encyclopedic knowledge of recorded music, and no nonsense attitude I respected until the day he died. We talked during his final days. I was honored to perform at his memorial with Lenny Kaye in NYC. Jerry and I butted heads once, but he came right back out of it and still invited me to his house for dinner. Jerry was funky and funny and honest, always the truth! The Muscle Shoals Rhythm Section was, and still is, a group of great guys, superb professionals who taught me alot. I still seem them and love them. They traveled with me to back me up on "Howard Cosell." [Note: Ronee's referring to her appearance on "Saturday Night Live with Howard Cosell," with aired on ABC between September 1975 to January 1976].
WYA: You've done so many things — actress, singer, songwriter, composer, producer, and director — but I'm wondering, is there one role that you identify with more than the others?
Ronee Blakley: I love doing them all and the way it coalesced in the movie Nashville was maybe my favorite type of combination; working with others closely, writing scenes and songs, singing, acting on film, bringing others into the project, hanging out together, coming up with ideas and realizing the. To have a creative outlet like that is a luxury more desirable than things. To direct myself? Yes, that too is fun!
You can read much more about Ronee here.
MP3: Ronee Blakley – American Beauty (buy)
---
7 Comments so far
Leave a comment
Leave a comment