Friday, November 5th marked what would have been Gram Parsons' 64th birthday. To celebrate, we've decided to highlight the story behind the essential Gram Parson's song "The Return Of The Grevious Angel". You may be surprised to learn that the lyrics to the song were mostly written not by Parsons, but by a shy young poet named Thomas Stanley Brown (hereafter Tom Brown).
As the story goes, Brown came up to Gram Parsons in a bar called Olivers in Boston where he was performing during the summer of 1973 and handed Parsons a sheet of lyrics that he'd written, asking him to please consider setting it to music. More about the song after the jump, and be sure to check out the comments below to see an update on this article!

Here are the lyrics:
Won't you scratch my itch, sweet Annie Rich
And welcome me back to town.
Come out on your porch or step into your parlor,
And I'll tell you how it all went down,
Out with the truckers and the kickers and the cowboy angels,
And a good saloon in every single town.
Oh, and I remembered something you once told me,
And I'll be damned if it did not come true,
Twenty thousand roads I went down, down, down,
And they all lead me straight back home to you.
'Cause I headed west to grow up with the country,
Across those prairies with those waves of grain.
And I saw my devil and I saw my deep blue sea,
And I thought about a calico bonnet,
From Cheyenne to Tennessee.
We flew straight across that river bridge,
Last night half past two.
The switchman waved his lantern goodbye,
And good day as we went rolling through.
Billboards and truckstops pass by the grievous angel,
And now I know just what I have to do.
And the man on the radio won't leave me alone,
He wants to take my money for somethin' that I've never been shown.
And I saw my devil and I saw my deep blue sea,
And I thought about a calico bonnet,
From Cheyenne to Tennessee.
The news I could bring I met up with the king,
On his head an amphetamine crown.
He talked about unbucklin' that ol' bible belt,
And lightin' out for some desert town.
Out with the truckers and the kickers and the cowboy angels,
And a good saloon in every single town.
Oh, but I remembered something you once told me.
And I'll be damned if it did not come true.
Twenty thousand roads I went down, down, down
And they all lead me straight back home to you.
Twenty thousand roads I went down, down, down,
And they all lead me straight back home to you.
As you can see, Brown's poetic lyrics tell of a man coming home after having lit out for the west, to unknown territory, in order to experience life and get a little livin' under his belt. Now he's coming back, hat in hand, asking the girl he'd left behind to let him inside so he can tell her about all of the things that he's seen on his adventures.
Brown to this day is still credited with co-writing the song, which first appeared as the lead-off track on Parsons' second solo album, Grevious Angel (Reprise 2171). The record was released posthumously, in January 1974, just a few short months after his death (at age 26) on September 19, 1973.
The album turned out to be both Gram Parsons' artistic peak as a solo artist and, some might say, his last will and testament. Parsons' affairs were in such disarray after his death that initially the song was credited solely to him in the first pressing of the album, but Parsons' estate later acknowledged the actual authorship as soon as Brown came forward. Parsons also added a few lines of his own and fine-tuned it (particularly, the section where he sings about the "man on the radio"). These lyrics, incidentally, were in a notebook that Gram grabbed as he fled from his home, which burned down shortly before the second solo album sessions were scheduled to begin.
Brown was, unfortunately, not given credit on any releases until the early '80s when a 45rpm single was released with an alternate version of "Return of the Grievous Angel" (backed with a purported remix of Parsons song "Hearts On Fire").
In Hickory Wind: The Life And Times Of Gram Parsons (St. Martins Press: NY, 1991), author Ben Fong-Torres includes just two short mentions of Brown, and reveals that Gram Parsons had visited Harvard earlier the same day as the gig in Boston, where he had paid a visit to a friendly college adviser of his named Reverend James Thomas, who was also known to some of his friends and colleagues as "Jet."
It's possible that Brown was a student at Harvard at that time — Parsons had attended the University himself, between September 1965 and February of 1966. Fong-Torres says that "Return Of The Grievous Angel" actually chronicled Brown's romance with his wife, or the woman who became his wife ("Sweet Annie Rich") but that Brown also "had Gram in mind, too. The title was inspired by a photo he'd seen of a sad-looking Gram; the king with the head full of speed was Gram."
Fong-Torres describes the song in this way: "'Return Of The Grievous Angel' sounded like pure Parsons with its conversational tone, its crisp descriptions evoking the South and 'the truckers and the kickers and the cowboy angels,' its Dylanesque reference to a meeting with 'the King' 'on his head an amphetamine crown,' and it's swooping chorus tailor-fit for Gram and Emmylou's hand-held harmonies."
At one time there was a magazine or fanzine called Cosmic American Music News which actually featured a short interview with Tom Brown, of which here is an excerpt:
CAMN: Did you give Gram the lyrics in Boston?
Brown: Yes, I gave Gram the lyrics at a club called Oliver's, near Fenway Park in Boston. I believe the club is called something else now.
CAMN: What were you doing as a living when you gave Gram the song?
Brown: At the time of the meeting in Boston, I had been studying and writing poetry for about a dozen years. Only once had I tried to adapt my writing to music; a high school friend had a band that got a record deal out of New York. He asked me to help him write some material, but his label people had no idea what to make of our work. They said it was too "wiggy" for release. A year or so later, Bob Dylan's first record with obscure, scatter-shot lyrics came out. We had to laugh and like so many others, we got a huge hit off it.
As good as Brown's lyrics are, Parsons' melody makes them all the more memorable, especially the gentle but determined chorus that gives the heartstrings a firm and determined yank. Parsons' original recording played the "lovable rogue with a heart of gold" card for all it was worth, while Lucinda Williams' 1999 rough-and-ready cover managed to up the toughness quotient a few notches.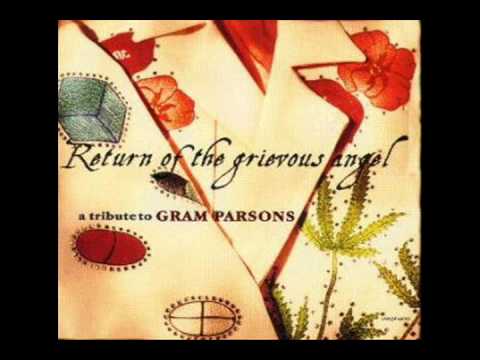 Lucinda Williams and David Crosby- Return of the Grievous Angel
Despite rave reviews in Rolling Stone, the L.A. Times and placing at #15 on the Village Voice's list of top 20 albums of 1974, Grievous Angel did not sell very well (Gram's albums both sold an average of 40,000 copies at the time of their original release). It peaked at a disappointing #195 after only 3 weeks on the Billboard album charts.
According to Fong-Torres, in December 1973 as Reprise prepared Grievous Angel for release, Gram's wife Gretchen (with whom he'd filed papers in order to begin divorce proceedings) put a stop to plans for the album to feature a cover photo of Gram and Emmylou astride his Harley-Davidson motorcycle (with Emmylou's arms resting on Gram's shoulders).
Joe Smith, the president of Warner Bros. Records at the time (Reprise and Warner Bros. would later be combined as Warner-Reprise), chose to "respect the family's wishes," and Emmylou was relegated to a back-of-the-cover LP credit with no photos of her whatsoever.
As for what happened to Thomas Stanley Brown, we've contacted several of Parsons' recent biographers, but none of them were able to provide any clue as to Brown's current whereabouts, and we were unable to locate him either. The publisher representing Brown's share of the song's royalties doesn't even know what happened to him, which seems surprising. Perhaps, he too "headed west to grow up with the country," and his Kerouac-ian adventures have led him to places unknown, places from which he hasn't returned. Or perhaps, like George Webber at the end of Thomas Wolfe's novel You Can't Go Home Again, he has found that "You can't go back home to your family, back home to your childhood,…back home to a young man's dreams of glory and of fame…back home to places in the country, back home to the old forms and systems of things which once seemed everlasting but which are changing all the time — back home to the escapes of Time and Memory."
Nostalgia makes us yearn for places from our past, but those places — perhaps in the mostly metaphysical sense — no longer exist, at least not in the way that we'd hope to find them. Just a few years ago, Brown himself was posting in a Gram Parsons web forum and then he just … disappeared. Still, the words he wrote in his youth certainly continued to resonate and and today represent yet another example of a truly American experience, of trying to find one's place in the world. Let's hope Tom Brown found his place.
Ben Fong-Torres gets the final word about this lovely song of Parsons and Brown's: 'Grievous Angel' became the album's signature song. It also served to show how resourceful Gram was when he needed to be, as he applied the perfect, lilting melody to Brown's words. Whether he did it be design or out of desperation, Gram's resulting set of original songs was brilliant, a dossier of a life lived and deeply felt."
"Return Of The Grievous Angel"
music by Gram Parsons / lyrics by Gram Parsons and Thomas Stanley Brown
Published by GPJ Music (BMI) and Hot Burrito Music (BMI), adm. by Bug Music, and Sixteen Stars Music (BMI), adm. by Horipro Entertainment Group Inc., Nashville.
Produced by Gram Parsons for Tickner-Dickson Productions
Engineered & Mixed by Hugh Davies
Recorded in July 1973 at Wally Heider Studio 4, Hollywood, CA:
Mixed at Capitol Records Studio, Hollywood, CA
Personnel on "Return Of The Grievous Angel":
Gram Parsons: lead vocals, acoustic guitar
Emmylou Harris: vocals
James Burton: electric lead guitar
Bernie Leadon: acoustic rhythm guitar
Herb Pedersen: acoustic rhythm guitar
Byron Berline: fiddle
Al Perkins: pedal steel guitar
Glen D. Hardin: piano
Emory Gordy: bass
Ronnie Tutt: drums
---
37 Comments so far
Leave a comment
Leave a comment