Country Porn is a really cornball and juvenile country-rockish "comedy" album (your mileage may vary) released on Penthouse Records in 1976. Let's call this one "corn-pone" or maybe "corn-porn," as the case may be. If you can get by the puerile lyrics, the album is a lot of fun. More after the jump.

Country Porn was credited to one Nick "Chinga" Chavin, who originally hailed from Montclair, New Jersey. He was apparently a student at the University of Texas in Austin at one point in the mid-sixties. That's Chavin on the cover, his Stetson-covered head down, with a toilet-seat guitar slung over his shoulder.
And here he is in 1976 with his band An Unnatural Act featuring Barry "Forest" Silverblatt, also known as "Forrest Blue" (guitar, vocals), Steven "Jellyroll" Baker (rhythm guitar, vocals), "Beaver Bob" Hermann (bass) and Craig "Mad Dog" Morley (drums, vocals).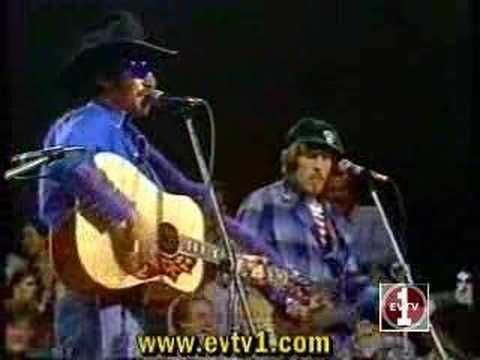 Kinky Friedman- Asshole from El Paso
Chavin's best known song is "Asshole from El Paso," written in 1975 by Chavin and Kenny "Snakebite" Jacobs, a horn player in Kinky Friedman's band and recorded by Kinky. The song is a parody of Merle Haggard's "Okie From Muskogee." It was Chavin who gave his good friend Friedman the nickname "Kinky," by the way, after Friedman's curly hair. Chavin produced a couple of albums for Friedman too, back in the nineties: one called From One Good American To Another, and another called Old Testaments & New Revelations.
Chavin and members of Friedman's band ended up at Quadrophonic Studios in Nashville, and these recordings eventually came to the attention of Bob Guccione, who in 1976 decided to sell the LP and cassette tape as Country Porn through Penthouse Magazine's mail order dept. Over 100,000 copies were sold, apparently. One reviewer called the album "an antidote to Cosmic Cowboy fatuousness." Copies of the record often show on Ebay, including one that is currently up for grabs with zero bids at .99 cents. Click here to check it out.
MP3: Chinga Chavin – Asshole From El Paso (buy)

MP3: Chinga Chavin- Dry Humping In The Back Of A '55 (buy)
---
No Comments so far
Leave a comment
Leave a comment