John and Ceci Sebastian, The Farm, Los Angeles, CA 1969 © Jerry de Wilde, 1969
When You Awake's own Bryan Thomas explores the history of a place that Rolling Stone magazine once referred to as a "ramshackle semi-commune." The Burbank, California-based community known as The Farm was home to a number of influential people in the late 60s and early 70s, including musician John Sebastian, photographer Henry Diltz and record producer Cyrus Faryar among others. In this piece, Thomas shares snippets of interviews he conducted with Diltz and Sebastian over the years as well as a handful of photos of the commune by Henry Diltz and Jerry de Wilde. Read more after the jump.

John Sebastian, Waterbaby Dye Works, The Farm, Los Angeles, CA 1969 © Jerry de Wilde, 1969
John Sebastian came to live at The Farm in September of 1969, immediately after his unplanned but memorable appearance at Woodstock a month earlier. In an interview I conducted with him in 2001 for the liner notes for Faithful Virtue (the Rhino Handmade collection of his solo albums and additional recordings for Warner Bros., including his entire performance from Woodstock), he said:
John Sebastian: "At the the same time I was recording John B. Sebastian [his first solo album for nearby Warner Bros. Records], I was living at a place called The Farm, but there were a lot of places called The Farm at that time, so I don't want to confuse it with others. This wasn't the Hog Farm, or any of the really ambitious communal situations. The Farm in L.A. was on Barham Boulevard, about halfway down as you go into Warner Bros.' TV studios in Burbank. Nowadays, where the gateway to where the property was, there's a huge condominium [the Oakwood Toluca Hills Apartments and Condos].
This property had originally been Lady Barham's hunting lodge, something probably in the teens or twenties. There were a few buildings and a few out buildings and a few little garages that had sprung up, and very artistic types were living in these different houses. It started off as the actual rental property of a guy named Cyrus Faryar, who was a member of the Modern Folk Quartet."
John Sebastian, 1969 © Henry Diltz, 1969
In addition to John Sebastian, Henry Diltz, who was also a founding member of the Modern Folk Quartet, was a frequent figure at The Farm. Diltz is, of course, the oft-celebrated photographer who has captured iconic shots of some of our favorite artists from the 60's and 70's — including bands like The Lovin' Spoonful, The Mamas & The Papas, America, Eagles, Linda Ronstadt, and The Monkees to name a few. He has more than 200 LP cover photos to his credit, including the Doors' Morrison Hotel, James Taylor's Sweet Baby James, and Crosby, Stills & Nash's debut LP. When asked about this photo, Diltz replied:
Henry Diltz: "This is John Sebastian at a place called The Farm, which was in L.A. right off Barham Blvd. and was kind of an artistic commune of houses where a lot of people lived. John is wearing his tie-died outfit here. When he moved to The Farm he lived in a tent, which he tie-died, and then he tie-died all of his clothes — every stitch of clothes that he owned, he tie-died.  John was an old friend from back in the early '60s in Greenwich Village when I was a folk singer and he was a folk singer; I'd met him before The Lovin' Spoonful got together. But this was a couple of years after that."
Henry Diltz: "There was a lady called Tie-Dye Annie  [Annie Thomas, who lived in a dwelling called the "Chicken Shack"] who made the most beautiful, colorful, bright tie-dyes, which she taught John to do. He got so into it that eventually he tie-dyed every piece of clothing he owned, including his socks, his sheets and the walls of his tent. You should have seen his clothes line on laundry day. There are photos of John wearing these clothes on his album, John B. Sebastian, on Reprise Records, including a picture on the back that I took of him on stage at Woodstock."
In the Faithful Virtue liner notes, Sebastian mentions the various dwellings on the Farm property. There were the two main houses: the "Upper Farm" and the "Lower Farm".
The Upper Farm, where Phil Austin (of the Firesign Theatre comedy troupe), as well as musician Cyrus Faryar and his wife, Renais Jean Hill,  lived, was actually part of the original hunting lodge, and featured a huge stone fireplace. Faryar — who Jac Holzman referred to as the "Persian minstrel of Barham Boulevard" — was also a record producer and he'd built a home recording studio in one of the lodge bedrooms, and it's in this studio that a lot of music was made. Ike Turner recorded several albums there, and Cass Elliot ("Mama Cass") did, too, recording tracks for her Dream A Little Dream Of Me album in 1968.
Incidentally, Cass Elliott's album was produced, in part, by John Simon, who had produced the Band's Music From Big Pink LP, among many other classics, and it featured performances by John Sebastian, Graham Nash, Steven Stills and John Hartford. The Firesign's Phil Austin adds his voice between tracks and performing as a carnival barker on "Jane The Insane Dog Lady."
The "Lower Farm" was where Anton Green lived (Green directed a lot of the Firesign's short movies) — and it's in the living room of this dwelling where the Firesign Theatre wrote a lot of their material, including their album Nick Danger (the photo of the Firesign Theatre on the back cover of that LP was taken in the driveway of the Upper Farm, incidentally).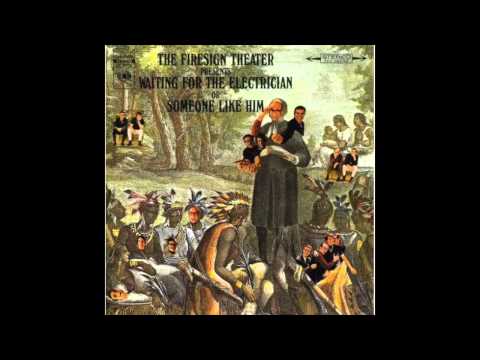 Firesign Theater – Waiting for the Electrician or Someone Like Him
The Firesign's first comedy album, Waiting for the Electrician or Someone Like Him from 1968 (Columbia Records), was no doubt inspired by life at The Farm. One track, "W. C. Fields Forever," in fact, satirized much of then-current hippie counter-culture and philosophy in general — taking drugs, eating "natural" foods, gurus and Eastern religions, love children — through a mad parade of characters at a commune called "The Lazy Ol' Magic Circle Dudes Ranch and Collective Love Farm." Their spiritual leader, "Tiny Doctor Tim," is no doubt a parody of Dr. Timothy Leary.
John Sebastian: "Cyrus actually invited me, after I had visited them for a few days, to pitch a tent on the top of the hill where there was sort of a flattened-out spot. It was a leftover eight-by-eight tent that actually used to come with the purchase of a Volkswagen bus. This one belonged to the Volkswagen dealer who was sort of enamored with the lifestyle that was happening on this property. He would sell Volkswagens all day and then come by. Eventually he donated this tent. I think it might have been an extra that somebody didn't pick up when they bought their bus."
The name of the VW salesman was Jack Poet — the Firesign Theatre recorded several TV commercials and tracks for their albums for "Jack Poet Volkswagen," which were actually broadcast on KCOP, Channel 13 in Los Angeles, and radio ads aired on KMET FM. Jack Poet lived in a teepee on the Farm.
In addition to John Sebastian, Henry Diltz, Cyrus Faryar and his wife, and various members of the Firesign Theatre, the Farm regularly saw musician friends and familiars dropping by all the time, people like Cass Elliot, Linda Ronstadt, members of the jazz group Oregon and many others.
The "flattened-out spot" Sebastian is referring to above was, in actuality, the middle of a dirt trail cutting through a field known as "chicken flats." There were many trails up in those Burbank and Hollywood Hills, and they're mostly still accessible today; there's the Cahuenga Peak trail, in Aberdeen Canyon, starting from Commonwealth Canyon Road, and Aberdeen Trail, Hogback Trail, Mulholland Trail, and an access road called Mt. Lee Road, which leads up to the Hollywood sign, the famous sign on top of Mount Cahuenga (or is it Mt. Lee) created to promote a housing development (originally "Hollywoodland").
John Sebastian: "The Farm was full of wonderful mythology. There had been, within a month or two of my arrival, an Indian get-together on this hill. There was a mountain on the property that was considered a very sacred power point by certain Indian tribes [Mt. Cahuenga, or sometimes Cahuenga Peak]. I don't know which tribes, but the fun part of the story was that the Indians came to hold this meeting and, of course, all these European and American folks were absolutely fascinated by this. They ended up sleeping in the tee-pees and the tents that were brought in for this occasion while the actual Native Americans slept downstairs in the houses."
John Sebastian: "So, this little California hideaway kind of really supported me, just as far as the friendship and continuity and family, for about a year and a half. It was mostly musicians and actors and comedians, photographers and artists, and these are not the same kind of people who, you know, really dug in and hold hands every night and that kind of thing. In fact, we barely ate together. It was very informal, but it was somewhat of communal situation in that we had to pool our money for the rent, and stuff like that. I met my wife there, in fact, the woman I've had both my children with, the woman I'm still married to."
Henry Diltz has dozens, perhaps even hundreds, of unpublished photos taken at The Farm, and he's interested in working on a documentary film project, so if you're a filmmaker looking for a cool idea, get in touch with When You Awake and we'll put you in touch with Henry. Also, if you have any personal memories of The Farm or got to visit it yourself, please share you experiences in the comments.
---
4 Comments so far
Leave a comment
Leave a comment